Headquartered in Pasco, Washington, with offices across the US. See locations for an office near you. We have rapidly gained a presence in the federal government arena with the right abilities, resources and experience to handle project needs:
Financial stability and ability to fund payrolls and larger federal contracts.
Innovative electronic technology solutions.
Adaptability to expedited schedules, budget restrictions, work force limitations,  adverse weather conditions and changing state and federal regulations.
70-years experience in government projects, including: project management,  staffing, plant operations and construction interface, human resources, scheduling, and  environmental and waste management services.
Up-to-date knowledge of federal regulations to ensure compliance.
Company capabilities, values, integrity, professionalism and sound business practices create high employee satisfaction and retention.
ROXIE SCHESCKE'S VISION:
Success… A great Job… We all strive to find that.
Roxie Schescke, Indian Eyes President, is a perfect example of demonstrating that you can choose your own success. A small business owner in a large and competitive business arena, a woman with the drive to be a role model to many, the desire to feel a sense of personal fulfillment by helping others and the struggle for success becomes more complex. Roxie's passion for making a difference for people and her sense of obligation to be a good leader gave her the perseverance to hold on to her vision.
She kept her focus and did whatever it took to learn and earn the tools needed to eventually own her own business; from stepping into her steel-toed work boots to wearing many hats… including her hard hat! Over the years, she has learned what it takes to ensure the project is on schedule from cradle to grave. She calculated how to stay on budget in order to keep the reputation needed for the next contract award. She knows the importance of continuing education because she has seen the growth it has brought to her career.
Roxie succeeded in the face of great adversity. From a minority child growing up on a closed-minded prejudice community, to being a Woman in the construction industry, Roxie was faced with bigotry. She did not dwell on other people's negativity but focused on her vision to be a leader making a better environment and community. Her positive attitude, focus on her vision, and sheer dedication to success made her the hard driven successful business Woman she is today.
Roxie knows sacrifices, in the early startup years she was living in a double car garage made into their living quarters and office. There was very little space, a small budget and a small bank account, which left a small amount of patience. It sounds like a country song and felt like one as well.
Right after Hurricane Katrina, Roxie got involved, landed contracts, and led her teams to mission accomplishment. Ensuring the reputation of the business and her integrity left a winning mark with the client. She stayed right in the pulse of everything from the snakes and insects to sharing living quarters with thousands. Ten years later, she proudly proclaims, "My Company has a great reputation for success with zero incidents."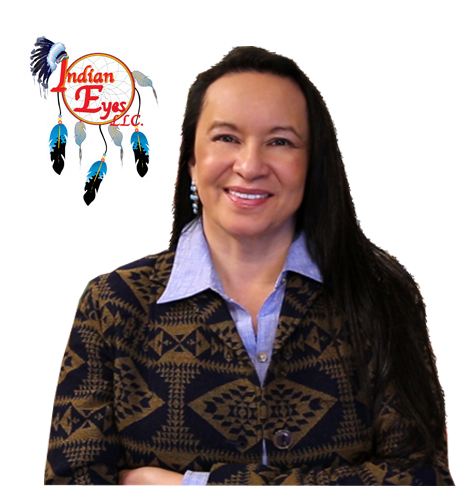 "I would like to thank my wonderful husband, Tim, who truly is the most wonderful partner in life and in business that one could ask for; and my very successful friends for being there and teaming with Indian Eyes during opportunities that proved beneficial for all parties concerned.
Somewhere along the way, we adapted the belief that the quality of our circumstances dictate life, rather than choice. I strongly believe that the life we are living today is based on the choices we made yesterday, and if we want a different life, we must have the courage to make new choices and seek the opportunities to be whatever you want to be.
Small Business programs have become the vehicle that has given millions of individuals an opportunity to create a life and business they, and their families that follow them, can love. These programs will only prove to be a successful if we educate ourselves in all areas needed to perform. If awarded that opportunity of success we need to be the role model that is a leading advocate for improving the quality of life for all Americans, especially the health, education and future of the children!
I am committed to do just that and would love to share my success in how we won contracts. My hope is to have a positive influential impact on fellow Small Businesses and their potential for success! You must have a successful business plan and see where you are going, you have to be able to visualize what it takes to get there. You do not have to be a top graduate to win contracts; but you do have to know how to perform the contract if you win it.
Imagine for a moment that you have the power to be whatever you want to be!
Surround yourself with good people I sure have!"
– Roxie Schescke Owner, Indian Eyes, LLC